Die Veranstaltung "KI-Krisenresilienzplattformen: Chancen und Herausforderungen" bietet einen umfassenden Überblick über das Krisenresilienzprojekt Cognitive Economy Intelligence Plattform für die Resilienz wirtschaftlicher Ökosysteme (CoyPu) und beleuchtet dabei eine Vielfalt an rechtlichen Fragestellungen im Bereich Datenverarbeitung, Krisenmanagement und künstlicher Intelligenz (KI).
Ziel der Veranstaltung ist es, verschiedenen Interessengruppen die Möglichkeit zu bieten in Austausch miteinander zu treten und die neuesten Erkenntnisse des CoyPu Projekts vorzustellen. In den Paneldiskussionen wird eine Brücke zwischen akademischer Forschung und praktischer Umsetzung geschlagen. Die Veranstaltung soll außerdem einen wesentlichen Beitrag zur nationalen und europäischen Forschung leisten und den Weg für weitere Vertiefungen ebnen.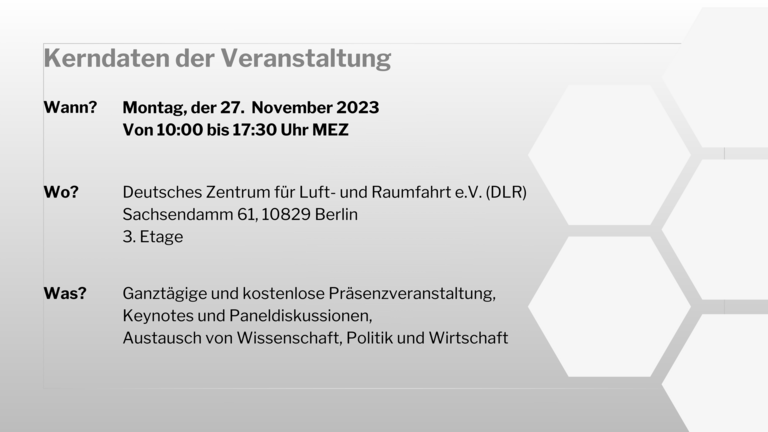 Begrüßung und Einführung
Omaima Abdel-Meged, Wissenschaftliche Mitarbeiterin, SRIW
Grußwort BMWK
Dr. Klaus Glasmacher, Vertretung BMWK
Keynote I: Vorstellung des Krisenresilienzprojekts CoyPu
Kurt Junghanns, Wissenschaftlicher Mitarbeiter, InfAI
Keynote II: Krisenresilienz im Mittelpunkt von KI-Plattformen
Frank Ingenrieth, Geschäftsführer, SRIW & Head of Monitoring and Auditing, Legal Affairs, SCOPE Europe
Keynote III: Resilienzmanagement aus Unternehmensperspektive
Marta Bonik, PhD Candidate, Infineon Technologies AG

Keynote IV: KI und immaterialgüterrechtliche Herausforderungen: Beispiel ResKriVer
Alexander Besner-Lettenbauer, Wissenschaftlicher Mitarbeiter, TUM School of Social Sciences and Technology Department Governance
Panel I: KI, quo vadis?
Dr. Guido Brinkel, Head of Regulatory Policy / Director Corporate Affairs, Microsoft
Kai Pascal Beerlink, Referent für Künstliche Intelligenz (KI), Bitkom e.V.
Patrick von Braunmühl, Leiter Public Affairs Bundesdruckerei
Sebastian Straub, VDI/VDE Innovation + Technik GmbH
Stavroula Chatzipanagioti, Legal Project Manager & Data Regulation Specialist, SRIW
Panel II: Datenschutz - Fluch oder Segen für KI-Systeme?
Camila Morapasten, Wissenschaftliche Mitarbeiterin, SRIW
Prof. Dr. Georg Borges, Professur für Bürgerliches Recht, Rechtsinformatik, deutsches und internationales Wirtschaftsrecht sowie Rechtstheorie, Universität des Saarlandes
Dr. rer. nat. Jackie Ma, Gruppenleiter Angewandtes Maschinelles Lernen, Fraunhofer Institut für Nachrichtentechnik Heinrich Hertz Institute HHI
Susanne Eichhorn, Syndikusrechtsanwältin, Group Privacy, Cluster Lead Consumer, Products & Partnering, Deutsche Telekom AG
Dr. Thomas Nietsch, Partner, K&L Gates
Panel III: Pseudonymisierung und Anonymisierung von Daten
Frederick Richter, Vorstand der Stiftung Datenschutz
Jörn Wittmann, Head of Privacy Legislative Strategy & Public Affairs, Volkswagen AG
Rebekka Weiß, Leiterin Vertrauen & Sicherheit, Bitkom e.V.
Sakyi Mannah, Wissenschaftlicher Mitarbeiter, SRIW
Schlusswort und Verabschiedung